In-person and Telemedicine Appointments Available
At Vanguard Medical Group you can schedule a doctor's appointment that fits your schedule. Whether you are looking for a family medicine, primary care, or specialist physician, we can help. Our offices across northern and central New Jersey have weekday and weekend hours to ensure that you can find a convenient time to see your doctor. Call or use the online chat box on our website to make an appointment with a provider in person or online with our eCare telemedicine service.
Expanded Hours, Including Evenings and Weekends
We have offices that open as early as 7:00 a.m. and close as late as 9:00 a.m. on weekdays. Some of our locations also offer Saturday and Sunday hours and same-day appointments. This gives you the best chance to get to Vanguard when you need to be seen in-person by one of our providers.
eCare Telemedicine, Patient Portal, and Online Chat
If you cannot get to a Vanguard office, we can diagnose and treat many common conditions virtually with our Vanguard eCare Video Chat telemedicine appointments. We also can communicate with you through our Patient Portal.
Vanguard eCare:Our providers offer virtual telemedicine video visits through a secure online connection on your smartphone, tablet, or computer. You and your provider can see each other and talk in real time. It's available seven days a week, 8 a.m. to 8 p.m.  It's fast, easy, and convenient. or 973-559-0081 to make an appointment.
Patient Portal: Secure access to view lab results, request prescription refills, schedule appointments, and do even more. Online, anytime, anywhere—managing your family's care has never been easier with your Vanguard patient portal. 
Online Chat: We're on chat! Our chat feature is located at the bottom right of our web pages. You can request appointments there. You can also ask questions related to appointments, billing, the patient portal, and more!
Vanguard eCare Video Chat Telemedicine Visits with a Vanguard Provider
eCare Video Chat telemedicine visits allow our Vanguard healthcare professionals to evaluate, diagnose, and treat patients remotely during a phone call or videoconference. All you need is a computer, smartphone, or tablet with internet access. Call (973) 559-0081 to schedule a telemedicine visit and click here to find out more about how to use Vanguard eCare Video Chat telemedicine visits. Our eCare video visits make healthcare access more convenient and accessible for everyone. eCare can used in a variety of situations, including:
· Busy schedules with no time for office visits
· Evenings, weekends, and holidays
· Maintaining safe social distancing
· Medical concerns while traveling
· Patients who are homebound
· Lack of transportation
If we cannot diagnose your condition via a video chat, we will schedule an appointment for an in-person visit. Video appointments are billed according to your individual insurance company's policy. Medicare and major insurance plans are accepted.
Follow these steps to use Vanguard eCare Video Chat for telemedicine visits.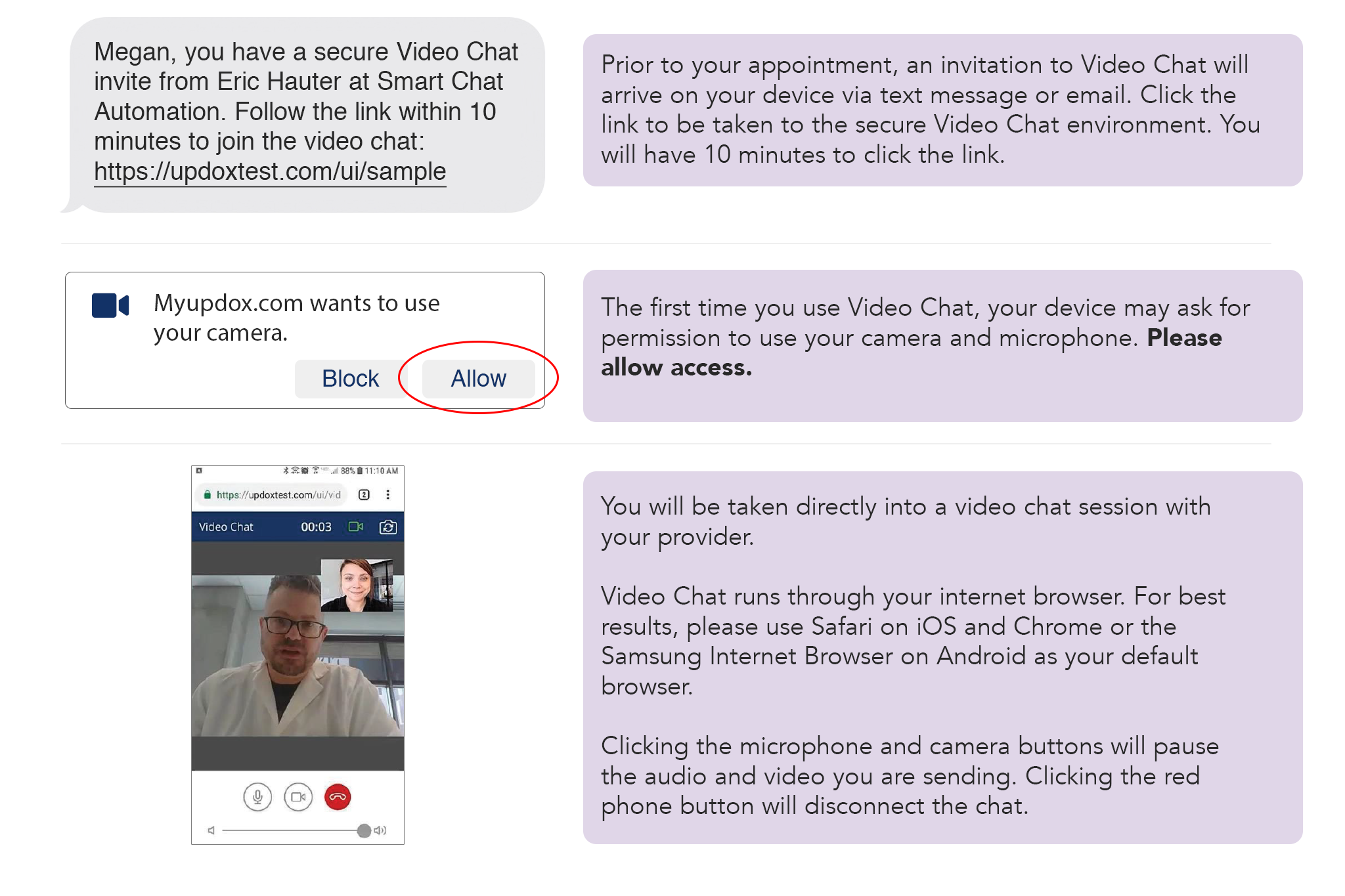 For Vanguard eCare Telemedicine FAQs, click here.
Patient Portal: Secure Access to Your Health Records
Use the Vanguard patient portal to confidentially email your provider, to get your health records, and to keep track of upcoming appointments. It's sometimes easier than a phone call, and can be used 24/7. Visit the Patient Portal Help page and read the Patient Portal brochure for more information.
Choose Vanguard
By choosing Vanguard Medical Group as your primary care source, you have access to providers who want to partner with you in order to help you make positive health and lifestyle choices. Contact Vanguard Medical Group today to learn more about our practice.
Primary Care
Cranford (908) 272-7990
Glen Ridge (973) 969-3800
Jersey City (201) 431-7200
Lincoln Park (973) 696-6687
North Haledon (973) 636-9000
Randolph (973) 560-9500
Verona, Grove Ave. (973) 239-2600
Verona, Bloomfield Ave., Internal Medicine (973) 239-3770
Specialty Care
Denville – Gastroenterology (973) 627-4227
Denville – General Surgery (973) 627-4227
Emerson – Allergy & Immunology (201) 649-8100
Verona, Bloomfield Ave. – Cardiology (973) 233-4493
Verona, Grove Ave. – Sports Medicine (973) 239-2600
eCare Video Chat Telemedicine Visits
Telemedicine – Patient Access Team (973) 559-0081