At Vanguard Medical Group, we offer so many convenient ways to connect with a trusted provider. Access our primary and specialty care services, after hours and urgent care appointments, and in-person and telemedicine visits, 7 days-a-week, 365 days-a-year.
Care When and Where You Need It
We make seeing your primary care provider easy to fit into your busy schedule:
Evening, weekend and holiday hours
In-person office visits at multiple locations
Telemedicine appointments, 8 am to 8 pm daily, 7-days-a-week, 365 days-a-year, including holidays
Same-day sick visits
Prescriptions and refills
Our Patient Portal gives you 24/7 access to test results, health records, prescription refills, and patient-doctor communications. For more information about our Patient Portal's secure access to your health records, visit our Patient Portal help. To log into the portal, click here.
Learn more about how to access the care you need at our locations.
Primary Care
Specialty Care
When emergencies or serious health conditions arise, the same team that knows you and your family history will be there to provide your care. We're here for you whenever you need us.
Telemedicine Appointments Daily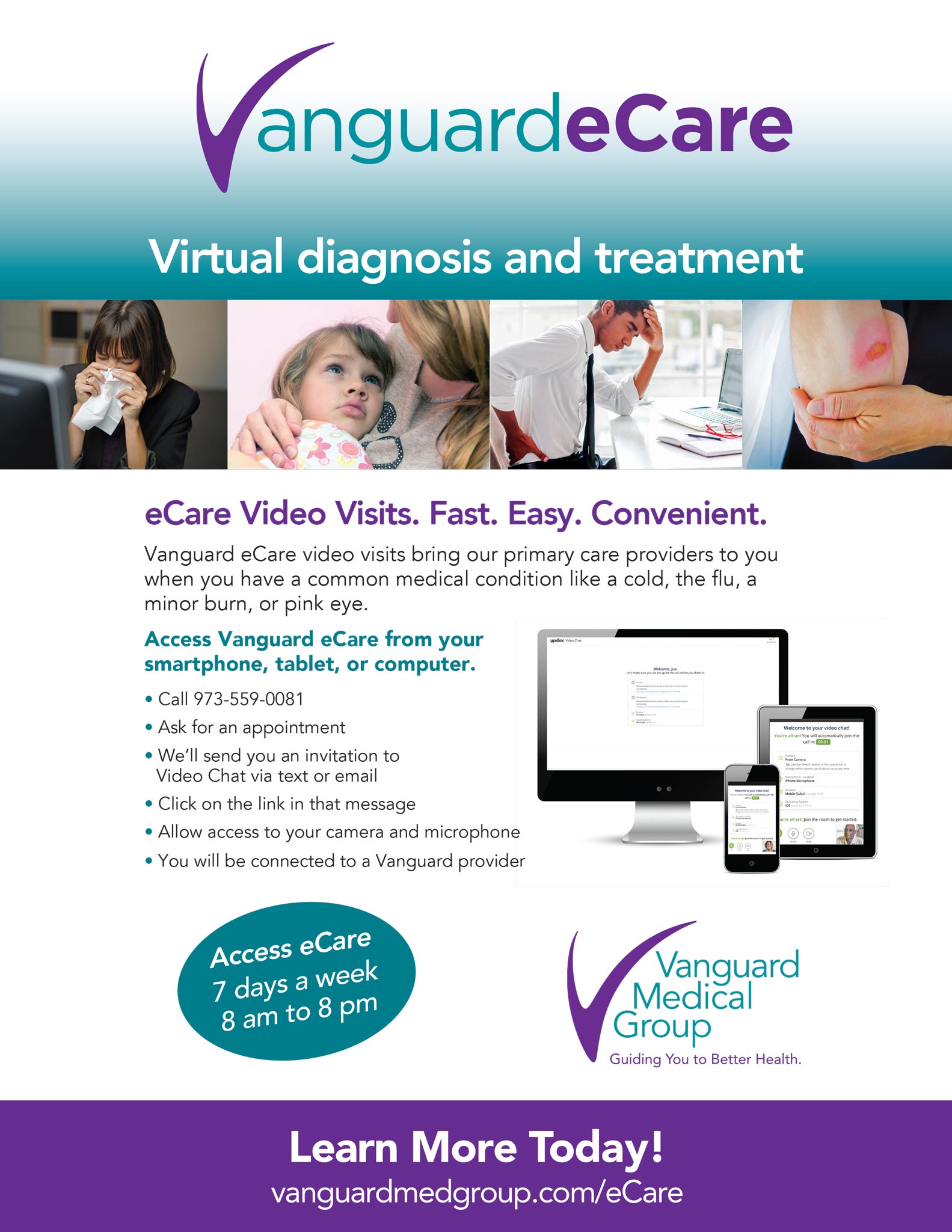 Vanguard Medical Group's telemedicine services offer patients the opportunity to see a Vanguard provider from anywhere via a secure platform. Telemedicine is available 365 days-a-year, including holidays, from 8 a.m. to 8 p.m.
Telemedicine is designed to eliminate the barriers that prevent some patients from receiving the medical attention they need in-person, such as:
Being homebound
Lack of transportation
Busy schedules
Traveling
Maintaining safe social distance
For more information, visit our frequently asked questions (FAQs) about Telemedicine appointments.
Here's How to Reach Us 7 Days-A-Week
To schedule an appointment:
Chat With Us Online
vanguardmedgroup.com
Patient Access Team
8 am to 8 pm, Daily
973-559-0081
patientaccessteam@vanguardmedgroup.com
Local Offices
Regularly Scheduled Hours
vanguardmedgroup.com/contact 
When you can't get to the office:
eCare Telemedicine Video Visits
8 am to 8 pm, 365 days including Holidays
973-559-0081