Telemedicine at Our New Jersey Practices
Video visits for virtual diagnosis and treatment.
When concerns over your health arise, your primary care physician is your first line of defense and standing by to diagnose your symptoms and refer you to specialists when necessary. Don't let your inability to make it into your doctor's office stop you from receiving prompt medical care. At Vanguard Medical Group, our locations across New Jersey offer telemedicine services to all of our patients, seven days a week, from 8 a.m. to 8 p.m., including holidays. It provides user-friendly video visits for the online diagnosis and treatment of certain conditions. We even offer telemedicine consultations for new patients as their first visit. Learn more about our virtual healthcare services today.
Please note: Telemedicine is never an alternative to emergency care. If you or a loved one has sustained a serious injury, become suddenly ill, or is experiencing a medical emergency like a heart attack or stroke, call 9-1-1.
What Is Telemedicine?
Offering fast, easy, and convenient access to quality healthcare from anywhere, telemedicine allows patients to utilize phone calls or video conferences to interact with Vanguard Medical Group's practitioners, who can:
Evaluate a patient's symptoms
Diagnose certain conditions that do not require a physical examination, imaging, or laboratory testing to confirm
Treat patients by prescribing medication or issuing other medical advice
Refer patients to specialists
And more…
Conditions We Address with Telemedicine
Telemedicine helps Vanguard Medical Group patients overcome a wide range of barriers that keep them from making it into our New Jersey-based offices. These may include busy workday schedules, a lack of transportation, being homebound, and more. Telemedicine is also a viable avenue for patients who would otherwise need to wait to receive the appropriate care. In any case, our telemedicine services meet the needs of patients with various health concerns, such as: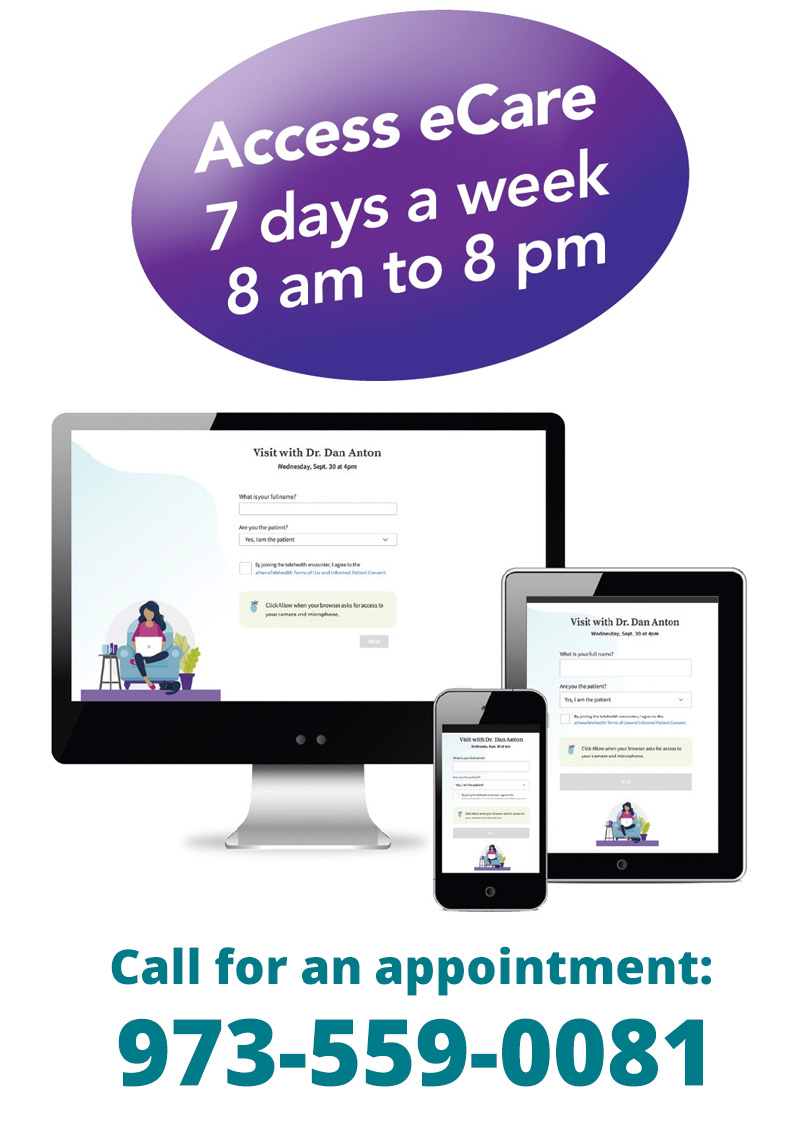 Allergies
Athlete's foot
Bladder infection (UTI)
Cold, cough, or sore throat
Cold sore, canker sore, or fever blisters
COVID evaluation and follow-up
Diaper rash
Eczema or dermatitis
Flu symptoms and fever
Jock itch
Low back pain
Minor burns
Motion sickness
Pink eye (conjunctivitis)
Respiratory infections
Ringworm
Shingles
Sinus infection
Skin and nail problems
Stye
Tinea (fungal skin infection)
Yeast infection
Why use eCare telehealth video visits?
An increasingly essential aspect of the American healthcare system, telemedicine serves Vanguard Medical Group patients with common medical conditions and a wide range of barriers that keep them from making it into our New Jersey-based offices. These may include busy workday schedules, a lack of transportation, being homebound, and more.
It is important to note that some conditions require in-person medical attention. Specifically, controlled medications will not be prescribed through a telemedicine visit. Upon scheduling your appointment, Vanguard Medical Group will consult with you to determine whether an in-person visit is necessary.
The Telemedicine Process at Vanguard Medical Group
Compatible with smartphones, tablets, computers, or any other devices with a camera and microphone, our telemedicine services are available seven days per week, with appointments beginning at 8:00 a.m. and ending at 8:00 p.m. After your telemedicine appointment is confirmed, you will receive a text or email invitation to a secure, private video chat with your physician – simply click the link and ensure your camera and microphone are turned on. After a virtual visit, patients are billed according to their insurance company's telemedicine policies. We accept Medicare and most major insurance plans. For Frequently Asked Questions, click here.
Schedule a Vanguard eCare Telemedicine visit today.
Serving New Jersey, Vanguard Medical Group offers telemedicine services from each of our numerous locations. To schedule a telemedicine appointment, call or email our Patient Access Team at 973-559-0081 or patientaccessteam@vanguardmedgroup.com. You can also contact your local provider's office.