Primary Care Doctors
& General Practitioners
Find The Best Doctor For You In NJ
Primary Care for Northern and Central NJ
Primary care is one of the best ways to stay healthy, as primary care doctors provide comprehensive, continuous health care for people of all ages. At Vanguard Medical Group, we have a network of dedicated physicians and locations available throughout Northern and Central New Jersey to address these essential medical needs. Existing patients and new patients are welcome to call and request an appointment today.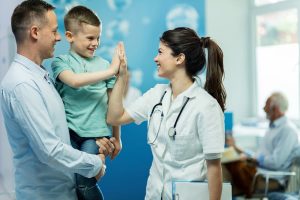 Our Primary Care Services
A primary care provider is by your side for all your healthcare needs. You can turn to your physician, physician assistant and nurse practitioner at Vanguard Medical Group first for help when you have a medical concern. Services include everything from diagnostics to preventative care to treatment and management of chronic conditions. Our doctors and providers include experts in family medicine, pediatrics and the special needs of geriatric patients. They can care for you and your entire family.
Primary care physicians offer the following services:
Routine physical examinations
Diagnosis and treatment of illnesses and injuries
Chronic disease management (high blood pressure, diabetes, etc.)
Acute illness care (fever, cold, etc.)
Back to school exams and sports physicals
Minor surgical procedures
Nutritional counseling
Behavioral health
Specialist referrals and care coordination
X-rays, EKG, and, other testing
And more
One of the best parts about having a primary care doctor at Vanguard Medical Group is the level of personal care. Your doctor will take the time to get to know you and your health history. Every time you come in for an appointment, you can feel confident knowing you're receiving the individualized care you deserve from an experienced, compassionate provider. Our primary care services include:
• Family Medicine
• Geriatrics and Senior Care
• Internal Medicine
• Pediatric & Adolescent Medicine
• Primary Care at Home for Homebound
• Women's Health
Appointments at Vanguard Medical Group
Making an appointment at Vanguard Medical Group is easy. You can see a provider in the office, with a video telemedicine visit or with an eCare, online diagnosis and treatment. Simply call the office or fill out our online form. We also offer extended hours to accommodate your busy schedule. Primary care doctors are available for evening and weekend appointments for your convenience and even offer after-hours care. We'll make every effort to get you into the office as soon as possible with same-day or next-day appointments. You can also ask non-emergency questions with the chat option on our home page. Hospital and assisted living visits are available through several of our locations.
We accept major health insurance plans. Not sure if your insurance is accepted? Give us a call and we'll be happy to help.
Online Patient Portal
As a primary care patient at Vanguard Medical Group, you'll be able to access healthcare information anytime, anywhere. Our online patient portal allows you to log in and view your appointments as well as your up-to-date healthcare information. With the patient portal, you'll also be able to:
Request appointments
Receive test results
Request medication refills
Request specialist referrals
Ask non-emergency healthcare questions
Plus, you can also pay bills online at your convenience, so you can skip the hassle of sending checks in the mail.
Get High-Quality Medical Care Today
Everyone needs a doctor they can trust. Meet yours today when you become a new patient at Vanguard Medical Group. Contact our team today to find a doctor that's right for you in a location that's right for you.
Explore more services from Vanguard Medical Group online now.
Cranford, NJ (908) 272-7990
Glen Ridge, NJ (973) 969-3800
Jersey City, NJ (201) 431-7200
Lincoln Park, NJ (973) 696-6687
North Haledon, NJ (973) 636-9000
Randolph, NJ (973) 560-9500
Verona, NJ – Bloomfield Ave. (973) 239-3770
Verona, NJ – Grove Ave. (973) 239-2600
Farmingdale, NJ (732) 938-6471