Nutrition Services in New Jersey
Understanding your specific dietary needs
Pave the way toward a healthier lifestyle with our comprehensive nutrition counseling. In partnership with a medical nutrition specialist, our patients can effectively manage specific health conditions, weight-loss efforts, and more. At Vanguard Medical Group, we offer in-person nutrition services from our Verona, New Jersey, office, as well as virtual nutrition services for patients of our offices throughout north and central NJ. Learn more about nutrition counseling and our classes.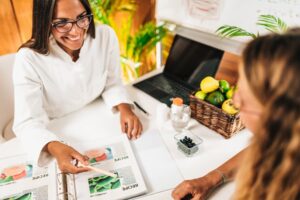 Our Prediabetes and Diabetes Classes
As part of our nutrition services, Vanguard Medical Group offers classes that address the specific health needs of patients with prediabetes and diabetes. These classes cover several topics, such as:
Learning to live well and manage diabetes
Understanding the diabetes pathophysiology (functional changes associated with the disease)
Conquering nagging questions about which foods to choose
Staying motivated to get fit and stay active
Becoming an expert at monitoring blood sugar levels and properly taking your medication
Being able to tackle sick days, traveling, and unexpected blood sugar levels
Preventing, detecting, and treating acute and chronic complications
Our diabetes self-management group classes are offered through our fully accredited Association of Diabetes Care and Education Specialists (ADCES) program. Additionally, this class is covered by most insurance plans, making it easier for patients to begin their journey toward better health.
Personalized Nutrition Counseling
Dietary choices can have a significant impact on overall health and well-being, especially for patients with diabetes, weight loss, hypertension, high cholesterol, and other medical issues. Working alongside a Vanguard Medical Group specialist, our patients can get the help they need to routinely make healthy dietary choices based on their unique needs. Our services include:
Meal plans, including those for vegan and vegetarian diets
Counseling on maintaining a healthy lifestyle
Healthy portion control review
Our dietitian/certified diabetes education gets to know patients on an individual level to understand their health needs and daily challenges. Our consultation sessions are developed by health coaches, registered dietician nutritionists, and certified diabetes educators who can answer any questions that arise.
Services for Patients with Diabetes and Other Metabolic Conditions (Obesity, Hypertension and Elevated Cholesterol)
At Vanguard Medical Group, we understand how difficult it can be to make meaningful lifestyle changes that will help you better manage a new or existing medical condition. That's why several of our services are tailored to individuals in need of nutritional guidance that addresses particular health concerns. These services include:
Prediabetes counseling
High cholesterol medical nutrition therapy
Hypertension dietary management therapy
Heart health medical nutrition therapy
We recognize that mental health can often impact dietary choices. For patients living with stress, anxiety, or depression, a behavioral health nurse practitioner is available to provide additional assistance.
Learn More from a Medical Nutrition Specialist
Receive the personalized guidance you need to make positive nutrition changes at Vanguard Medical Group. Our patient portal makes it easy to access your medical information 24/7.  Request an in-person appointment at our Verona, NJ, office, or a telehealth visit from one of in north and central New Jersey today.