Our Diabetes Self-Management Education Program Can Help You
Take Control of Your Diabetes
Vanguard Medical Group offers a personalized diabetes education program which is fully accredited by the Association of Diabetes Care and Education Specialists. Our diabetes education provides the tools and knowledge you need to manage type 2 diabetes. Work with our certified diabetes care and education specialist (CDCES) and registered dietitian nutritionist (RDN) to build a plan that is tailored to your individual needs – including personalized recommendations, blood glucose monitoring instructions and help finding the most cost-effective medication.
Managing diabetes is a lifetime commitment, but that does not mean you cannot enjoy life while monitoring your condition. Keep reading to learn more about our diabetes self-management classes, blood glucose monitoring support and other available programs.
Diabetes Self-Management Education
Services include diabetes and pre-diabetes counseling, weight loss counseling and personalized counseling on maintaining a healthy lifestyle. Once held in person only, the program is now virtual! Our highly trained and dedicated staff will provide you with the tools, education and support you need to feel better and lower your risk for serious health problems. Put the power to control diabetes back in your hands through programs that focus on self-management. Participants in our diabetes education classes often see their A1C levels decrease and no longer need to be on insulin.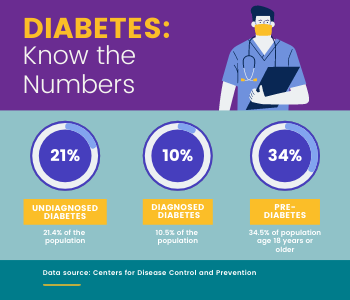 Self-management classes can help you:
Learn to prevent or manage your diabetes
Understand the diabetes process
Become an expert at monitoring your blood sugar levels
Learn how to take your medication properly
Make healthy eating choices
Motivate yourself to stay fit and active
Provide the most effective personalized care
Education Services Offered
Diabetes Group Education Sessions – Patients who have been newly diagnosed with diabetes patients and patients who have been living with diabetes for years can benefit from the Diabetes Self-Management Education (DSME) Program.
Our accredited program can:
Improve your blood sugar and A1C levels
Keep your blood pressure on target
Manage your cholesterol numbers
Improve your lifestyle
As a chronic condition, diabetes is often misunderstood. Because of this, our diabetes education starts with the basics. This includes explaining how the body produces insulin and how the body breaks down sugars. Diabetes care is extremely comprehensive and involves more than just knowing "the right foods to eat." As a chronic disease, diabetes involves multiple components; this can generate stress and become difficult to cope with.
A typical session of DSME involves:
Helping you understand how diabetes affects your body
Explaining how your diabetes medication works
Planning the best food and meals for you and your budget
Offering tips to help you cope with stress
Explaining how diabetes is treated
Discussing how to prevent the long-term effects and complications
We offer classes fully virtual or in person in our Verona, Grove Avenue location with our registered dietitian nutritionist (RDN) and certified diabetes care and education specialist (CDCES). Our RDN will set up an initial consultation to better identify your individual needs. Recommendations will be made, and you'll be guided through the entire education curriculum.
Blood Glucose Monitoring – Monitoring your blood glucose can be an important part of managing your diabetes. Our pharmacist and CDCES will educate you on:
When and how to monitor your blood glucose
Which method of monitoring is best for you
Which meter is the best and most cost-effective for you
Which medications are best for your lifestyle
Other Services Offered
Individual Sessions
One-on-one with our RDN (registered dietitian nutritionist)
Initial assessment and MNT (medical nutrition therapy) provided in an individual session
Time with our RDN for accountability and goal setting
Gestational Diabetes Counseling 
Gestational diabetes is one of the most common pregnancy complications. Approximately 50% of women diagnosed with gestational diabetes go on to be diagnosed with type 2 diabetes. Women with diagnosed gestational diabetes increase their risk of having a large baby that requires a cesarean section and of high blood pressure during pregnancy.
Individualized counseling provided by our RDN
Counseling sessions provide blood glucose monitoring and guidance for proper weight gain during pregnancy
Meal planning
Nutritional Counseling and Programs
In addition to DSME, our RDN offers a wide variety of nutritional services, including nutritional counseling that can be used to treat and manage:
Obesity
Weight loss
Chronic diseases
Allergies and food sensitivities
To learn more about our nutrition services, please visit our webpage.
FAQs
What is a typical group session like?
A typical group session will be held on Zoom, led by our CDCES instructor. Each session will focus on a specific topic while involving goal setting and achievements for every person in the group. This is a great opportunity to get all your questions answered – others may have questions you would not normally think to ask. A group session can be very beneficial.
What is a typical individual session like?
An individual session is one-on-one with our instructor, focusing on what to implement in your daily routine for greater health outcomes. Often our patients explain that they have some knowledge of nutrition but do not take the initiative to follow through.
Can I ask my own questions?
Of course! We encourage our patients to have full trust in us and to hold us accountable when it comes to their health. We are here to provide you with all the tools and resources necessary to make positive lifestyle changes.
How long is each group session, and is there a commitment to attend each one?
Each group session is approximately 1-1.5 hours, depending on the number of participants. Although our diabetes curriculum is a few weeks long, there is no commitment to attend every session.
Diabetes Care You Can Trust
Our goal is to provide the most effective personalized care for you and your family. By discussing your concerns with your doctor and creating a personalized prevention plan, you will be well on your way to better health. The primary care doctors at Vanguard Medical Group help patients manage chronic conditions like diabetes every day.
Current Vanguard Medical Group patients living with type 1 and type 2 diabetes should talk to their primary care physician about DSME. Contact your local office and ask to be connected with our certified diabetes care and education specialist. Not a patient of Vanguard Medical Group? You can still join our program! Just request a referral from your primary care physician to participate.