Diabetes Prevention
More than one million people are diagnosed with type 2 diabetes every year in the United States, and 34.5% are currently diagnosed with pre-diabetes. Diabetes can cause serious negative health consequences, and it's important to take precautionary steps to stay healthy and minimize your risk. If you've been diagnosed with pre-diabetes, or your primary care doctor believes you're at risk for developing it, keep reading to learn how you can prevent type 2 diabetes.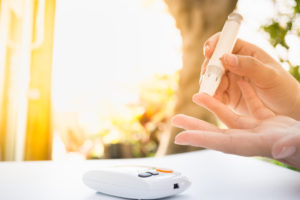 What are the Risk Factors?
Some people are more likely to develop diabetes than others. By understanding the risk factors – and managing them when possible – you'll be better prepared to keep diabetes at bay. Common risk factors include, but  are not limited to, the following:
All adults over the age of 45 – The risk for type 2 diabetes tends to increase with age, yet patients of any age can be diagnosed, including children.
Adults who are overweight –

Body mass index (BMI) equal to or greater than 25
BMI equal to or greater than 23 in Asian Americans

History of cardiovascular disease
First-degree relative with diabetes
Polycystic ovary syndrome (PCOS)
Habitual physical inactivity/sedentary lifestyle
History of gestational diabetes
HTN > 140/90 or on hypertension medications
A1c > 5.7%
Family history of diabetes – If type 2 diabetes and/or pre-diabetes run in your immediate family, you may be at higher risk.
Sedentary lifestyle – You don't spend enough time exercising, and you exercise less than three times per week.
Gestational diabetes – Pregnant women who were diagnosed with gestational diabetes have increased risk for developing type 2 diabetes.
PCOS – Women with PCOS also have increased risk for becoming diabetic.
If any of these risk factors apply to you, it's important to take action. With help from your primary care doctor and our registered dietitian nutritionist (RDN), you can learn how to correctly manage your health and eventually lower your risk for type 2 diabetes. As your doctor gets to know you, he or she will learn what works best for you and will be able to guide you in the right direction.
How Can I Prevent Diabetes?
Losing weight is one of the most effective ways to prevent type 2 diabetes. This is because when you have too much fatty tissue, your body has trouble responding to insulin. Fortunately, there are many easy ways to eat a healthier diet and increase your activity. For starters, try walking for 30 minutes a day, five days a week, and cut back on sugary drinks and snacks. You can discuss personalized diet and fitness plans with our RDN to find one that best fits your needs.
For women with PCOS, another way to prevent type 2 diabetes is by managing your condition. At Vanguard Medical Group, you'll find expert women's health practitioners who can provide regular checkups and testing and prescribe any necessary medication.
Your Primary Care Doctor Can Help
Learning you have a high risk for developing type 2 diabetes can be scary and overwhelming. Your Vanguard primary care doctor and our RDN can help you manage chronic conditions, like diabetes, every day. Ask them about our Diabetes Prevention Program, which utilizes the Prevent T2 CDC curriculum. To learn more about diabetes prevention or to schedule an in-person or telemedicine appointment, contact your local Vanguard office today.