According to the CDC, 200,000 Americans are hospitalized each year for conditions associated with the flu. At Vanguard Medical Group alone, we see hundreds of cases of influenza every year. Of these cases, the majority of patients never received the flu vaccine. Protect against the flu virus by getting vaccinated from a trusted Vanguard provider. Contact us today for more information.
Key Facts
In the U.S., flu season occurs during the fall and winter months. However, it's possible to contract influenza any time of year. The flu is an extremely contagious respiratory illness caused by influenza viruses. It attacks the respiratory system, including the nose, throat and lungs. Depending on the individual's risk factors, the flu can range in severity from mild to severe, and in some instances, it can lead to death.
Flu Vaccinations
To prevent the flu, the CDC recommends that everyone 6 months and older get an annual flu shot as soon as it becomes available – especially for those at high risk for developing flu-related complications, including:
Children younger than 5 years old
Adults aged 65 years and older
Pregnant women
Residents of long-term care facilities
Healthcare workers
People with chronic health conditions, such as asthma, heart disease, blood disorders and kidney disorders
The flu vaccine varies from season to season depending on the most predominant flu strain, and it's been known to not only reduce the occurrence of flu illnesses, but also prevent flu-related hospitalizations.
Scheduling Your Flu Vaccine
Vanguard patients may schedule a flu vaccine via the Patient Portal. Here's a quick step-by-step guide on how to do so.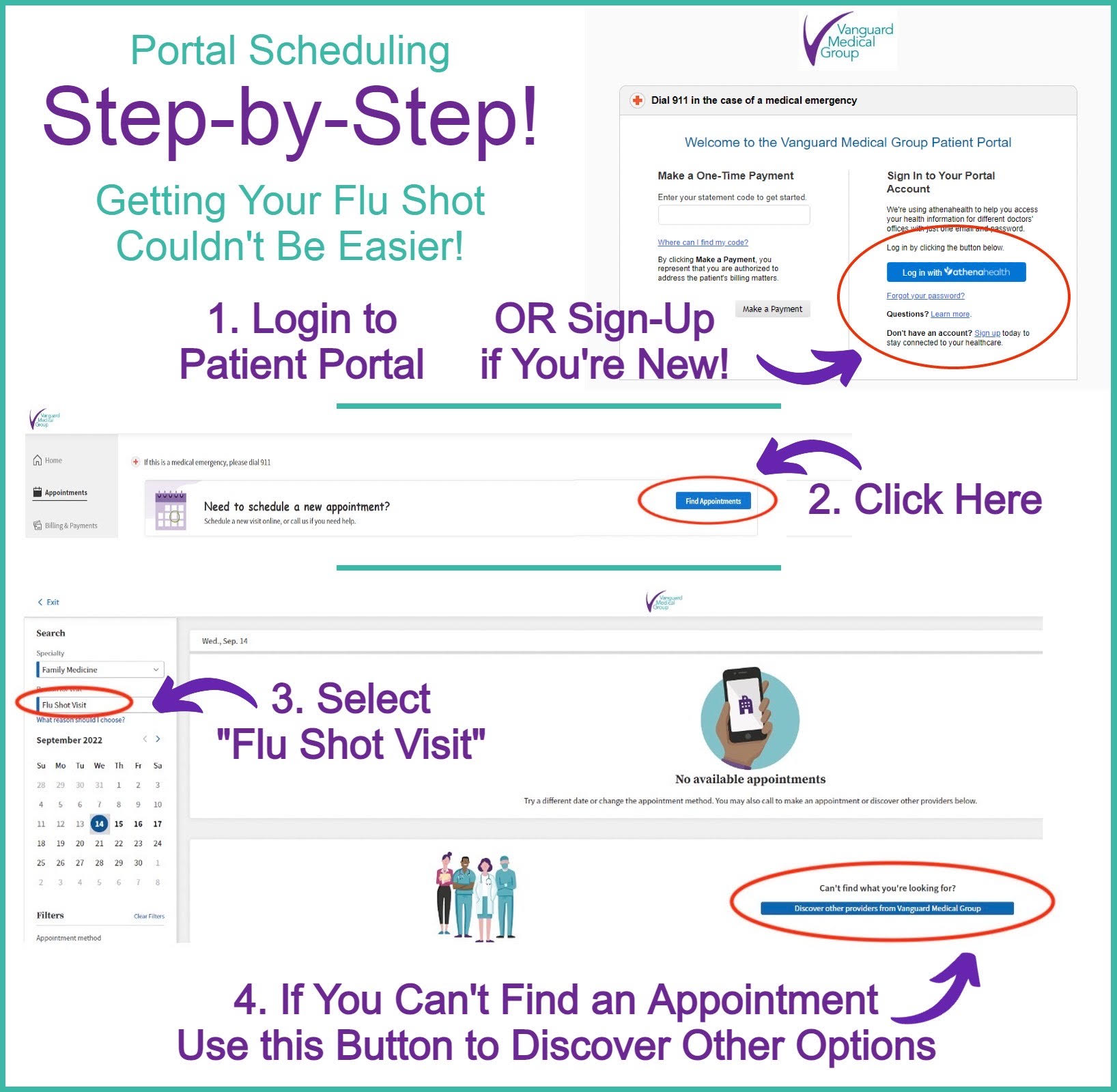 Flu Prevention
In addition to receiving the flu vaccine prior to flu season – preferably by the end of October – there are several additional ways to prevent the spread of influenza.
Practice good hand-washing habits using soap and water.
Avoid sick people.
Do not touch your mouth, eyes or nose.
When a sink's unavailable, cleanse your hands with alcohol-based hand sanitizer.
Disinfect frequently touched surfaces and objects.
Limit contact with others when you're sick.
Use a tissue to cover your mouth and nose while coughing or sneezing.
When experiencing flu-like symptoms, stay home for at least 24 hours after the fever has disappeared, unless seeking medical care.
Flu Care
If you become sick with the flu, it's important to take antiviral drugs as prescribed and instructed by your physician. Because this type of prescription medicine works best when taken within two days of getting sick, plan to make an appointment with your doctor  or schedule a Vanguard eCare visit if you're a high-risk patient and experience any of these symptoms:
Fever
Cough
Sore throat
Runny or stuffed nose
Body aches and headaches
Chills
Fatigue
Vomiting
Diarrhea
Antiviral drugs are usually available in pill, liquid or powder form and can help reduce symptoms and shorten the length of your sickness. For those with high risk factors, these prescription drugs may even prevent serious complications that would otherwise require a hospital stay.
Get the Flu Vaccine at Vanguard Medical Group
The first – and most important – step to preventing the flu is getting the yearly flu vaccine. At Vanguard Medical Group, we offer the flu vaccine to all our patients. We also have formulations for infants and high-dose flu vaccines for those over age 65. Visit the Vanguard Medical Group location nearest you to get vaccinated against the flu.