Coronavirus Update for Vanguard Patients
Last Updated: May 15, 2020
New Telemedicine Video Appointments
Antibody Testing Now Available
New Telemedicine Video Appointments Available
Your health and safety is always our number one priority, especially during this coronavirus pandemic.
We are taking the steps necessary to ensure that we are protecting both our patients and our staff against potential infection. We have added video telemedicine visit options and antibody testing for those with COVID-19 health concerns as well as other general and chronic health concerns. Most of our current visits are conducted via video at this time.
If you're concerned you might have the coronavirus, we will recommend a video visit. (As this is an evolving situation, we will keep you posted if this changes in any way.)
For children and healthy adults, the risk of getting seriously ill is relatively low. Our efforts will be focused on preventing the spread of the virus to our seniors and those adults with chronic diseases like diabetes, cancer, heart or lung disease.
If You Are Sick, Call Us First
What should you do if you are experiencing symptoms consistent with a respiratory illness? CALL US FIRST. If you think you might be sick, let us know when you call to make an appointment.  Telemedicine has been integrated into our action plan. We will guide you with next steps before and during your visit.
Telemedicine Video & In-Office Options Available
Keeping up with your health has never been more important. That's why we're offering several ways for you to connect with us.
Video Appointments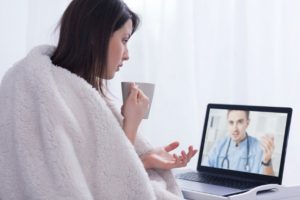 As a Vanguard patient, you can be seen and diagnosed by a Vanguard provider with a telemedicine video visit. A Vanguard provider will review your conditions and have access to your medical history. This will help us to make the right diagnosis and prescribe the right recommendations for you. When you call the office to schedule an appointment, they will assess whether an in-person or video option is right for you.
It's very simple to use from any device with a camera. When you schedule the appointment, our team will send you a link to begin the visit in an email message to your smartphone, tablet or desktop.  Click the link in the message. You will be asked to allow access to your camera and microphone. You will then be connected to a Vanguard provider.
Click here for FAQs on Video Visits.
Video visits are not just for coronavirus. Telemedicine (video visits) can be a helpful way to get the care you need during the pandemic, especially if you are coping with a chronic issue like diabetes and high blood pressure—and it can help prevent a trip to the hospital for more serious concerns.
Unfortunately, we are seeing too many news stories of people who were afraid to go for care and end up with a serious health problem. If you've been delaying or avoiding care, a telemedicine visit may be a comfortable alternative for you.
The providers at Vanguard are available and can use video visits to manage:
Examples
Allergic Reactions
Back Pain
Conjunctivitis
Cough and Colds
Depression or Anxiety Follow-up
Diabetes
Flu
Gout
Bone Density, Including Osteoporosis
Medication Refills (ADD, Cholesterol, Thyroid, etc.)
Rash
Seasonal Allergies
Urinary Tract Infections
Video appointments are billed according to your individual insurance company's policy.  Medicare and major insurance plans are accepted.
COVID-19 Antibody Testing
Have you already been infected with COVID-19 but were not tested at the time? If so, you will have antibodies in your bloodstream. We can test to see if that's the case, but the test has to be done at the right time. If it's given too early, you may get a false negative. It's also important to understand the pros and cons of the test and the implications of the results. That's why it's important to have your primary care provider assist you in doing this test.
Here's the process:
1. Schedule a video visit so we can understand the timing, symptoms and reason for testing.
2. If the Vanguard provider believes that testing is appropriate for you, we will promptly schedule your antibody test.
3. You'll visit one of our offices for a quick blood test.
4. We'll contact you with the results and see if you have any additional questions.
5. We will bill your insurance.*
*Antibody tests are billed according to your individual insurance company's policy. Medicare and major insurance plans are accepted.
To Learn more about antibody testing, click here.
In Our Offices
At times, we will recommend you be seen in person and will arrange an in-office appointment. We have gone to great lengths to guard against the potential spread of all respiratory illnesses, including COVID-19. You can help by calling ahead before coming to the office.
In either case, if you are in respiratory distress or experience any other emergency call 911.
Schedule Office Visits by Phone, Patient Portal or Website
Call to schedule your appointment. You can also make appointments through the patient portal or our website. Our offices are fully staffed, and in many cases, same day appointments are available. If you think you have symptoms of COVID-19, call ahead and we will guide you to next steps. If there is any other way that we can support you, please let us know.
Up-to-the-Minute Information on COVID-19
You can find information from the Centers for Disease Control and Prevention (CDC) and the New Jersey Department of Health websites. Should you have additional concerns, call our office.