COVID-19 Update for Vanguard Patients
Updated March 5, 2021
OUR ONLINE VACCINE APPOINTMENT SCHEDULING IS TEMPORARILY CLOSED
Due to limited supply of the COVID-19 vaccine we are unable to schedule any new first dose vaccination appointments at this time.
Some good news! We've been notified by the NJ Department of Health that next week they will resume shipping some vaccine to us. We expect the shipment next week to be smaller and then gradually increase over the following weeks. The Department of Health has also asked us to focus our effort in the next couple of weeks on those over the age of 75. It is clear that in New Jersey as well as nationally, our high-risk older seniors have not been able to navigate the technology, web sites, transportation and other obstacles to receive the vaccine. Primary care practices like Vanguard know who their seniors and high-risk patients are, have been giving flu shots for years, and are well positioned to help get the seniors and others at increased risk vaccinated. As we receive vaccine we plan to outreach directly to those over 75 in the coming weeks. If the projections on vaccine production are true, we expect a rapid increase in vaccine availability around the end of March but especially in April and May.
If you have an opportunity to be vaccinated at a county mega-site or pharmacy or other vaccine venue, we encourage you to do so. Each of these vaccines has been shown to reduce your chance of becoming seriously ill or hospitalized.
Looking back.
Hard to believe but it was one year ago this month when we started seeing significant numbers of patients with COVID-19 here in our offices. We had limited testing, one set of protective gear (PPE) for weeks at a time, lot of questions, but few answers and no real treatment. Thankfully we are in a much better place today but ultimately will only be successful if we maintain the precautions while we wait to all get vaccinated. Wear your mask, social distance, be thoughtful and smart as the rules are relaxed, but as importantly, be hopeful!
What about the J&J vaccine.
This is another good vaccine option. It is one shot instead of two and does not have to be kept in a special freezer. This vaccine was developed using more traditional vaccine methods and is highly effective in preventing hospitalization or death from COVID-19. Among the 22,000 individuals who received the vaccine in the Phase 3 trials none died from COVID-19. New Jersey received about 70,000 doses of J&J this past week shortly after the approval, and larger shipments are expected by next month. At the present time we are receiving only Moderna, but hope to also receive J&J in the near future.
We are looking for nurse volunteers to help vaccinate our homebound seniors.
We have about 100 homebound seniors who will need to receive the vaccine in their home. We have trained Medical Assistants who can administer the vaccine, but they will need to be supervised by a nurse. If you are a NJ licensed nurse and might be interested in supervising vaccination of these homebound seniors, please email Janet Duni, RN (janet.duni@vanguardmedgroup.com)
What happens if there is bad weather on the day my vaccination is scheduled?
We will contact you to reschedule your appointment if we have to close the vaccine clinic that day. When you do come for your vaccine please be mindful that snow may affect the traffic lanes and parking. Be patient, take your time and be careful.
Will the vaccine work against the variants?
So far the vaccine seems to be mostly effective against the variant strains and our best defense is to vaccinate as many people as possible and reduce the ability of the virus to spread and mutate. The CDC is keeping an eye on the variants and is prepared to make any recommendations on modifying the vaccines should that become necessary.
What's the latest on vaccine safety and side effects?
Over 80.5 million doses of the COVID-19 vaccines have now been administered in the United States and 271 million worldwide with remarkably few serious side effects.
Approximately 2-5 patients out of every one million have experienced a severe allergic reaction which was and is treatable with an EpiPen.
Early concerns about an impact on fertility have turned out not to be true.
A sore arm for a couple of days after the vaccination is common.
After the second dose of Moderna or Pfizer some people get a fever, body aches, a headache and feel fatigue the day after the vaccination. This typically lasts 1-2 days and then quickly resolves. It is a small price to pay to get immunity to have immunity after the vaccination.
A very uncommon side effect is a red rash at the injection site about a week after the vaccine. This lasts a few days and then resolves as well and does not require any treatment.
Should I take ibuprofen or some other medicine to prevent vaccine side effects?
The CDC recommends that you do not take ibuprofen, naproxen or acetaminophen before the vaccine to prevent side effects. This is because there is some research suggesting that those medicines when taken in advance, may reduce the immune response to the vaccine. However, after the vaccine, if you develop side effects, you may use these medications without impacting the immune response.
If you are experiencing a medical issue, please call the office or use the portal rather than sending an email.
Email is not a reliable way to communicate with your primary care provider when you are experiencing a medical issue.
Now that I've been vaccinated with both doses and its been more than two weeks since my second dose what can I do now?
One question that we still don't have the answer to is whether people who have been vaccinated can carry and spread the virus themselves even if they feel fine. For this reason, we should all continue to wear masks and social distance even if we have been vaccinated. Hopefully we will figure out the answer to this question soon now that so many people have been vaccinated. Because the vaccines are so effective, one exception that we hope the CDC will at some point suggest is that it is probably safe for small groups to get together without masks if EVERYONE in that group has been fully vaccinated. That's not an official recommendation, yet it seems reasonable. Dr. Fauci and the CDC are expected to talk more about this in the coming weeks.
No patient will be left behind.
In the coming weeks we are hopeful that vaccine supply will increase, and we will be able to resume scheduling new first dose vaccine appointments. We remain committed to getting all patients vaccinated over the coming months.
Expect Continued Weekly Emails
We will continue to update you with these weekly emails as more information becomes available. We need to keep the office phone lines open for non-vaccine related medical needs.
What's ahead?
Despite this temporary setback, we are in a much better place than we were last spring. New Jerseyans have generally been doing a good job in keeping the virus under control. Our hospitals and ICU's still have good capacity. Spring will be here soon and with it the opportunity to be outside, as long as we spread out and socialize safely. Besides the new J&J vaccine, there are other new vaccines on the horizon that look very promising and may become available in the coming months.
In the meantime, please be patient, wear your mask, avoid crowds, social distance when appropriate and take all the usual precautions to avoid contracting this virus.
To keep you informed, we update this COVID-19 patient information web page weekly to be your go-to resource. Here you'll find the answers to frequently asked questions about COVID-19, the vaccine, how Vanguard is approaching vaccine distribution, and the steps you can take to protect your health.
Information includes:
COVID-19 SIGNS AND SYMPTOMS
About COVID-19
COVID-19 is an infectious disease that is transmitted by a virus. It can cause respiratory symptoms that range from mild to severe. Older people and those with chronic conditions are most at risk for more severe symptoms.
How COVID-19 spreads
COVID-19 spreads through droplets of saliva or nasal discharge. These droplets are tiny and not visible to the naked eye. They may be in the air or on surfaces. You may get the virus by encountering an infected person who sneezes, coughs, or talks. You also may be exposed to the virus if you touch a shared surface and then touch your face or eyes. Wearing a mask and maintaining a social distance of at least 6 feet from others is the best way to protect yourself against infection. For more information, see the Centers for Disease Control and Prevention (CDC) FAQ page. 
COVID-19 signs and symptoms
You may have COVID-19 and be asymptomatic. If you do have symptoms, they may appear anywhere between two and 14 days after exposure to the virus.
Symptoms include:
Fever or chills
Cough
Shortness of breath or difficulty breathing
Fatigue
Muscle or body aches
Headache
New loss of taste or smell
Sore throat
Congestion or runny nose
Nausea or vomiting
Diarrhea
Treatment for COVID-19
For most healthy people, the treatment for COVID-19 is to manage symptoms. This includes taking over-the-counter medicines such as acetaminophen and staying hydrated. Patients also should quarantine, get plenty of rest, and isolate from others, including those in their household.
If your symptoms worsen, you may require medical care in a hospital. There are new treatments available, including a monoclonal antibody intravenous infusion. This is the same treatment provided to President Trump, and it may be given as an outpatient treatment in a hospital, outside of the ER. Hospitalization and other antiviral treatment may be required for severe cases. Your primary care provider can advise you on the best course of action, depending upon the severity of your symptoms.
Up-to-the-minute information on COVID-19
You can find information from the Centers for Disease Control and Prevention (CDC) and New Jersey Department of Health websites.
How do you know if you have COVID-19?
A diagnosis is confirmed with a medical test administered by a licensed professional. At Vanguard Medical Group, we offer both viral and antibody tests for COVID-19. Viral tests measure the amount of virus currently in your system. Antibody tests measure whether you have antibodies from a prior infection with COVID-19. 
TESTING
When should you get tested?
Ask yourself these questions to see if you should get tested for COVID-19. If you answer "yes" to either question, please request a telemedicine appointment to discuss this with your provider.
Do you have any of these symptoms of COVID-19?
Fever, cough, chills, unexplained muscle pain, shortness of breath, sore throat, loss of taste/smell
Have you had close contact (within 6 feet) with someone with confirmed COVID-19 for a total time of 15 minutes or more?
The CDC offers this interactive self-checker tool, which can help you decide whether or not you need to be tested.
COVID-19 PCR and rapid testing
For when you think you currently have COVID-19
The PCR test detects the virus within your system within days of infection and even before you have any symptoms. This test is sent out to a laboratory for processing. Results are generally available within two to three days.
The Rapid test can provide results within 24 hours. It generally is best used to detect COVID-19 when the patient is symptomatic. It is available at four of our locations: Cranford, Jersey City, North Haledon, and Verona.
Your primary care provider will determine which test is right for you based on your potential exposure, medical history, and symptoms. He or she may also recommend testing for flu, strep, or other illnesses when you get your COVID-19 test.
Here's the process for Vanguard Medical Group patients to schedule a test:
Schedule a video appointment so we can understand the timing, symptoms, and reason for testing.
If the Vanguard provider believes that testing is appropriate for you, we will promptly schedule your test.
You'll visit one of our offices for the appropriate test.
We'll contact you with the results and see if you have any additional questions.
We will bill your insurance.*
*COVID-19 tests are billed according to your individual insurance company's policy. Medicare and major insurance plans are accepted.
COVID-19 antibody testing
For when you think you have previously had COVID-19
Have you already been infected with COVID-19 but were not tested at the time? If so, you will have antibodies in your bloodstream. We can test to see if that's the case, but the test has to be done at the right time. If it's given too early, you may get a false negative. It's also important to understand the pros and cons of the test and the implications of the results. That's why it's important to have your primary care provider assist you in doing this test.
Here's the process to schedule a test:
Schedule a video appointment so we can understand the timing, symptoms, and reason for testing.
If the Vanguard provider believes that testing is appropriate for you, we will promptly schedule your antibody test.
You'll visit one of our offices for a quick blood test.
We'll contact you with the results and see if you have any additional questions.
We will bill your insurance. *
*Antibody tests are billed according to your individual insurance company's policy. Medicare and major insurance plans are accepted.
To learn more about COVID-19 antibody testing, click here.

THE COVID-19 VACCINE
There are several manufacturers developing COVID-19 vaccines. As of this writing, Pfizer and Moderna have both received emergency approval from the FDA for their vaccines. The Pfizer vaccine requires special refrigeration and must be stored at sub-arctic temperatures. The Moderna vaccine may be stored at regular freezer temperatures. Both vaccines are given in two doses. The Pfizer vaccine is given 21 days apart. The Moderna vaccine is given 28 days apart.
Americans will be vaccinated in a phased schedule based on risk, with a timeline that likely extends into the late spring of 2021.
Initially, two groups of individuals have been prioritized to receive the vaccine: healthcare workers and long-term care residents. It will take several weeks to complete this phase and move onto the next. The remainder of Americans will be vaccinated in a phased schedule based on risk, with a timeline that likely extends into the late spring of 2021.
The vaccine will help us to reach herd immunity when enough people are vaccinated. Until that time, our best defense is to continue to wear masks, maintain your social distance, and do not gather in large groups. Even when you do get the vaccine, it is important to take these precautions to protect those around you.
What are my options for getting the COVID-19 vaccine?
There will be several different COVID-19 vaccines released in 2021 and they will be allocated to hospitals, health centers, pharmacies, vaccine clinics, and primary care practices.
Vanguard has been approved as a vaccination site. As your primary care provider, our goal is to help you get protected against COVID-19 as soon as possible. As an established Vanguard patient, you will have the benefit of convenient registration and scheduling and knowing that an experienced team is giving you your vaccine. As always, we are taking great care, with protocols that are safe, even for our highest-risk patients.
Vanguard is currently administering the Moderna vaccine, which requires two doses scheduled 28 days apart. Be prepared to schedule both doses when you are contacted.
Initially, we will be using our Verona location for vaccinations. Five of the Vanguard Medical Group primary care offices will offer vaccinations, once the supply of the vaccine arrives. Locations will include Verona, Cranford, Jersey City, North Haledon, and Randolph. Our Lincoln Park location is expected to follow.
When will the coronavirus vaccine be available to Vanguard patients?
Following the community healthcare worker and high-risk patient vaccinations, we anticipate having the vaccine available for the next phase. We remain in frequent contact with the New Jersey Department of Health to determine timing. Please watch this page for updates.
Am I on the list to receive the coronavirus vaccine?
Everyone is on the list. All current Vanguard patients are slated to be contacted and scheduled to receive the vaccine. We will prioritize our patients based on guidelines recommended by the CDC and the New Jersey Department of Health. If you have questions, please email inquiries@vanguardmedgroup.com.
Potential side effects of the coronavirus vaccine
At Vanguard Medical Group, safety is our number one concern. We are continuously evaluating the FDA data so we can be confident that we are administering a safe vaccine.
Allergic reactions have been reported in a small number of people who have received the vaccine. We have worked with our allergist, pharmacist, nurses, and providers to have necessary medicine and protocols in place should an emergency arise.
To help ensure our patients are safe, we will ask you to park in the parking lot for 15 minutes after receiving your vaccination. Patients with a significant allergy history are going to receive their vaccinations inside and will be asked to wait for 30 minutes.
Should you get the COVID-19 vaccine?
If you answer "yes" to one or more of these questions, you should consider getting the COVID-19 vaccine. Importantly, every person is different. You may consider the vaccine for an elderly parent, for example, even if you feel it is not right for you.
Are you age 18 or older?
Do you have one or more underlying medical conditions?
Do you come in contact regularly with someone who is over 65 and/or who has underlying medical conditions?
Are you a frontline or essential worker?
Do you regularly encounter people or groups who are outside of your family unit?
Do you travel out of state or out of the country? 
Patient Vaccination FAQs
What are the most common side effects of a mRNA COVID-19 vaccine?
The most common side effects of a COVID-19 vaccination are like symptoms of other vaccinations and include pain at the injection site (most common), fatigue, headache, muscle pain, chills, and fever. These symptoms are usually mild and resolve within one or two days and can be managed with acetaminophen or ibuprofen. Side effects appear to be more common after the second dose but can occur after both doses. Most volunteers in the study continued to perform their normal daily activities. If you have symptoms lasting for more than three days, contact your primary care provider.
Additionally, a harmless, red, warm, and itchy rash has also been seen to appear 7-10 days after the first dose of the Moderna vaccine, in the arm where the vaccines was given. It is a brief immune response and the rash should disappear after a few days. It does not appear to be dangerous and you should still receive your second Moderna vaccine dose. If the rash lasts longer than a week, spreads to a different area of the body, and/or grows larger than 5-6 inches, please contact your provider.
Will a COVID-19 vaccination make me sick?
It is possible you might feel unwell for a few days after receiving the vaccination, but these symptoms are signs that the vaccine is working (although the side effects don't need to occur for the vaccine to work) and should not last more than two or three days. The vaccine will not cause you to be infected with the COVID-19 virus.
How will I know whether my symptoms are from the vaccination or a COVID-19 infection?
In general, if the symptoms are only at the injection site (like arm pain or redness), then this is most likely due to the vaccination. If you experience symptoms of a flulike illness with muscles aches and fatigue and fever that last more than two or three days or occur more than a week after your vaccination, it could be a COVID-19 infection. It also might be COVID-19 if you have a cough, congestion, or new loss of taste or smell. In that case, you would need to follow up with your provider for further evaluation. Again, these would not be from the vaccination.
Is there any COVID-19 vaccine approved for use in children?
At this time, there is no COVID-19 vaccine approved for use in children under 16 years old. There are currently studies in progress to assess the efficacy in patients as young as 12 years old.
I have an egg allergy. Can I receive a COVID-19 vaccination?
Yes. The COVID-19 vaccines do not contain egg and are not produced in an egg-based medium.
Does the COVID-19 vaccine contain any preservatives?
No. None of the vaccines contains preservatives at this time.
Does the COVID-19 vaccine or vaccine vial contain any latex?
No. The Moderna COVID-19 vaccine and the vaccine vials do not contain any latex.
How long will it take to build immunity (protection) after getting the COVID-19 vaccination?
It typically takes a few weeks after vaccination for the body to build full immunity.
How long does immunity last after I receive a COVID-19 vaccination?
The duration of protection against COVID-19 is currently unknown and will continue to be studied.
Can I receive just one dose and be protected?
Completing both doses is highly recommended. After 1 dose of Moderna's COVID-19 vaccine, efficacy was 50.8% to 92.1%. After two doses, efficacy was 94.1% for the prevention of symptomatic SARS-CoV-2 infection. These trials were not designed to fully observe efficacy after just one dose, so receiving 2 doses to complete the series is highly recommended.
Can I receive COVID-19 vaccine doses from different manufacturers?
No. The safety and efficacy of a mixed series have not been evaluated, so your first and second COVID-19 vaccinations should come from the same manufacturer.
Can I receive other vaccinations on the same day as my COVID-19 vaccination?
No. We recommend you separate receipt of other vaccinations from COVID-19 vaccinations by at least 14 days.
If I was previously infected with COVID-19, should I still receive a COVID-19 vaccination?
Yes, however, since the vaccine is in short supply and you have immunity for at least some time, we suggest you wait 90 days from your diagnosis. The vaccine trial results show the vaccine is still safe and efficacious to use on patients who have a history of COVID-19. Patients who have had COVID-19 typically produce antibodies; however, it is unknown how long they will last. Antibody levels produced by a vaccine tend to be higher and suggest better immunity than those from a natural infection.
Do I need to get tested for COVID-19 infection or antibodies before receiving a COVID-19 vaccination?
No. Testing for acute infection or antibodies is not recommended before receiving the vaccination.
I received monoclonal antibody and/or plasma therapy for COVID-19. When can I receive a COVID-19 vaccination?
Vaccination should be deferred for at least 90 days to avoid the treatment interfering with vaccine-induced immune responses.
Are the COVID-19 vaccines live?
No. They are not live vaccines.
Should pregnant and/or breastfeeding women receive the COVID-19 vaccination?
Pregnant women were excluded from the vaccine trials, and there are no data on the safety of COVID-19 vaccinations in pregnant or breastfeeding women. Data are not available to assess the effects of the COVID-19 vaccine on the breastfed infant or on milk production/excretion. Studies in humans are ongoing, and more are planned. If a pregnant woman is part of a group (e.g., healthcare personnel) that is recommended to receive a COVID-19 vaccination, she may choose to be vaccinated. A discussion with her healthcare provider can help her make an informed decision.
Will receiving the COVID-19 vaccination affect any future COVID-19 test (PCR or rapid) results?
No. Receiving a COVID-19 vaccination will not affect the results of future COVID-19 tests.
Will receiving the COVID-19 vaccination affect the results of a COVID-19 antibody test?
Yes. The COVID-19 vaccination may affect results of a COVID-19 antibody test because the vaccine will cause your body to produce antibodies.
Can I spread the virus after receiving the vaccine?
We don't know yet whether the vaccine will stop you from spreading the virus. The vaccine is designed to stop the virus from making you sick. We must wear masks and social distance until the vast majority of people are vaccinated.
How much protection does the vaccine offer?
It appears the COVID-19 vaccines that have been reviewed offer 95% protection against infection.
Can I stop wearing a mask after receiving the COVID-19 vaccination?
No. For your protection and that of others, masks are still required, and social distancing is encouraged.
I was potentially exposed to COVID-19 in the community. Can I receive the COVID-19 vaccination?
We recommend you wait until your quarantine period has ended before receiving a COVID-19 vaccination to avoid exposing healthcare personnel (HCP) or other persons during a vaccination visit.
I have had an allergic reaction to certain foods, vaccines, and/or oral medications in the past. Can I still receive the COVID-19 vaccine?
Most likely you can receive the COVID-19 vaccine; however, we may want to monitor you for a longer period of time after vaccination. The CDC considers a history of severe allergic reaction (e.g., anaphylaxis) to any other vaccination or injectable therapy (e.g., intramuscular, intravenous, or subcutaneous) as a precaution but not a contraindication to vaccination. In addition, allergic reactions to foods, pets, venoms, the environment, latex, or oral medications (including the oral equivalents of injectable medications) are not a contraindication or precaution to vaccination with mRNA COVID-19 vaccine. Patients who have had a severe allergic reaction to any components used to make the mRNA COVID-19 vaccines (e.g., polyethylene glycol) should not receive it.
As a child, I was allergic to penicillin and other antibiotics and experienced a rash. Am I at risk for a serious reaction to a COVID-19 vaccination?
A history of mild allergic reaction like hives alone, without signs or symptoms of anaphylaxis, to a vaccine, injectable therapy, or oral med is not a contraindication or precaution to either COVID-19 vaccine and would not make you more at risk for a serious reaction to a COVID-19 vaccination. You should not receive a COVID-19 vaccination if you are allergic to any ingredient used to make the vaccine. Persons with a history of mild allergic reactions will be observed for 15 minutes after receiving the injection, and those with a history of anaphylaxis will be observed for 30 minutes after.
You may also want to talk to your primary care provider about seeing an allergist. Recent research has shown that many penicillin and other antibiotic allergies identified in childhood may not persist into adulthood.
How do I report if I have any side effects after getting a COVID-19 vaccination?
V-safe is a smartphone-based tool that uses text messaging and web surveys to provide personalized health check-ins after you receive a COVID-19 vaccination. Through v-safe, you can quickly tell the Centers for Disease Control and Prevention if you have any side effects after getting a COVID-19 vaccination. Depending on your answers, someone from the CDC may call to check on you and get more information. If you need a reminder, v-safe will also alert you to get your second COVID-19 vaccine dose. To sign up for v-safe, please visit V-safe After Vaccination Health Checker | CDC.
I have had Bell's palsy. Is it safe for me to receive a COVID-19 vaccination?
Cases of Bell's palsy were reported following vaccination in participants in both the Pfizer-BioNTech and Moderna COVID-19 vaccines' clinical trials. However, the Food and Drug Administration does not consider these to have occurred at a higher rate than expected in the general population and has not concluded that these cases were causally related to vaccination. Until more information and evidence are available, persons with a history of Bell's palsy may receive an mRNA COVID-19 vaccination unless they have a contraindication for vaccination. Any occurrence of Bell's palsy following mRNA COVID-19 vaccination should be reported to the Vaccine Adverse Event Reporting System (VAERS).
I'm on a blood thinner. Can I receive a COVID-19 vaccination?
Taking blood thinners or having a bleeding disorder is not a contraindication for intramuscular injections, but you need to be aware that any bleeding at the injection site may take longer to stop and you may experience increased bruising.
I have dermal fillers. Can I receive a mRNA COVID-19 vaccine?
Infrequently, people who have received dermal fillers may develop swelling at or near the site of filler injection (usually face or lips) following a dose of an mRNA COVID-19 vaccine. This appears to be temporary and can resolve with medical treatment, including corticosteroid therapy. mRNA COVID-19 vaccines may be administered to people who have received injectable dermal fillers who have no contraindications to vaccination. No additional precautions are needed. You should contact your healthcare provider for evaluation if you develop swelling at or near the site of dermal filler following vaccination.
Should I pre-medicate with Tylenol or an NSAID (like Motrin or Aleve) before receiving my COVID-19 vaccine?
Routine preventive use of antipyretics or analgesic medications for the purpose of preventing post-vaccination symptoms is not currently recommended, as information on its impact on mRNA COVID-19 vaccine-induced antibody responses is not available at this time. Antipyretic or analgesic medications may be taken after your vaccine, if necessary, to treat local or systemic symptoms.
Disclaimer: FAQs will be updated as we have more information.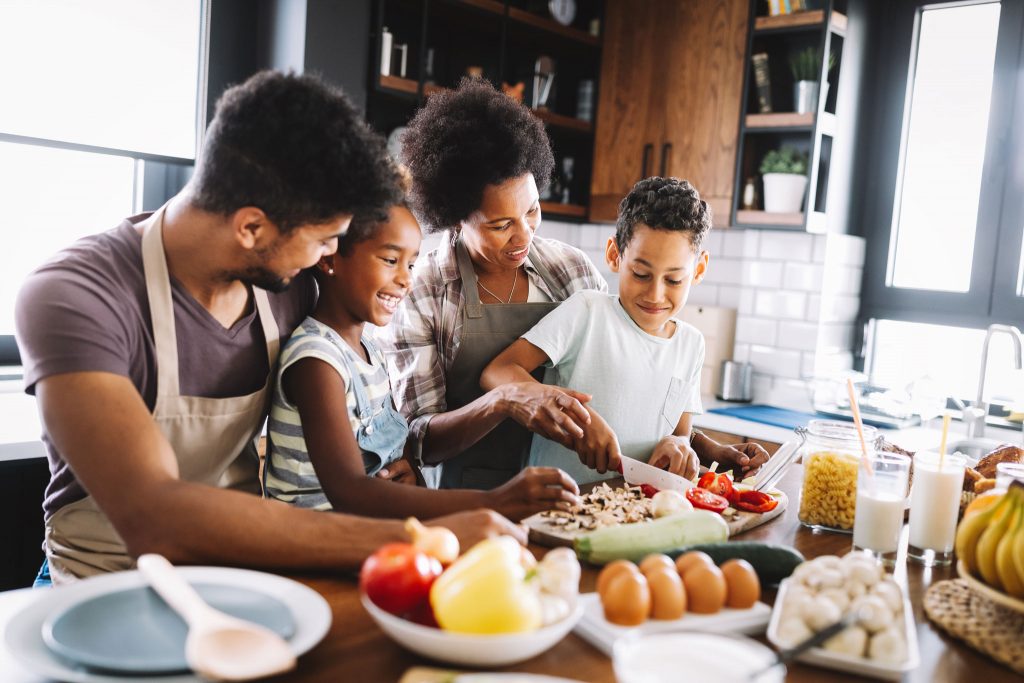 STAYING HEALTHY
What can you do to stay healthy?
The best thing you can do during this pandemic is to take all the necessary precautions to protect yourself from exposure to COVID-19.
Wear a mask when in public or with groups of people who are outside of your "bubble."
Maintain a distance of 6 feet from others when out in public.
Wash your hands with soap and water after you touch shared surfaces. Effective hand washing lasts for 20 seconds: about the time it takes to sing Happy Birthday twice.
Use an alcohol-based hand sanitizer that contains at least 60% alcohol when soap and water are not readily available.
Avoid unnecessary interactions in public places. Choose curbside pickup or home delivery for groceries and essentials whenever possible.
Reduce exposure to people who may be visiting many homes, such as handymen.
Avoid unnecessary travel, especially out of state.
Eat right, exercise, and maintain social connections safely.
What should you do if you get sick?
Your primary care provider is uniquely positioned to evaluate your symptoms and determine whether you have COVID-19, another virus or bacterial infection, or another condition. We have many safe options for seeing you, including in person or through a telemedicine appointment.
Importantly, if you are in respiratory distress or experience any other emergency, call 911.
Related health challenges during the COVID-19 pandemic
The COVID-19 pandemic has increased the potential for additional challenges related to behavioral health. These are issues that may be addressed by your primary care provider.
Mental health
Social isolation, job loss, and concern about getting COVID-19 can take its toll on your mental health. This may result in you experiencing anxiety, depression, or issues regarding behavioral health. Read more about how your Vanguard provider can help with these challenges via the links below.
Addiction and substance abuse
There may be a tendency to turn to alcohol or drugs to help cope with stresses during the pandemic. When such use interferes with your daily life, it's time to seek help. Your Vanguard provider can help you with a personalized program that can get you past addiction and substance abuse and on to a healthier life.
CONTACT INFORMATION
Telemedicine video and in-person options available
Keeping up with your health has never been more important. That's why we're offering several ways for you to connect with us.
Video appointments
As a Vanguard patient, you can be seen and diagnosed by a Vanguard provider through a telemedicine video visit. A Vanguard provider will review your conditions and have access to your medical history. This will help us to make the right diagnosis and prescribe the right recommendations for you. When you call the office to schedule an appointment, they will assess whether an in-person or video option is right for you.
It's very simple to use from any device with a camera. When you schedule the appointment, our team will send you a link to begin the visit in an email message to your smartphone, tablet, or desktop. Click the link in the message. You will be asked to allow access to your camera and microphone. You will then be connected to a Vanguard provider.
Click Here for FAQs on Video Visits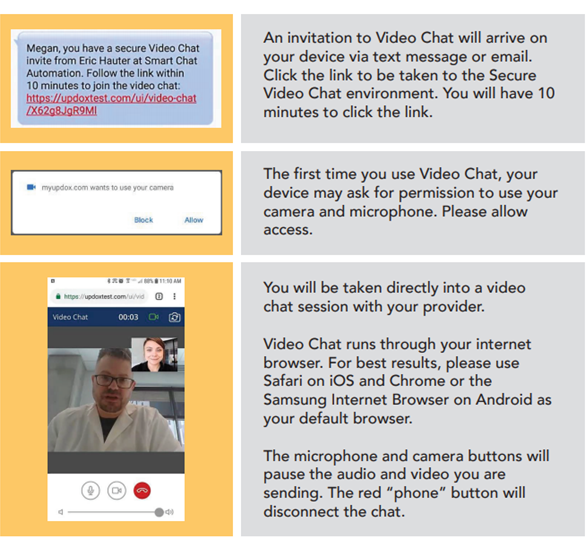 Video visits are not just for COVID-19. Telemedicine (video visits) can be a helpful way to get the care you need during the pandemic, especially if you are coping with a chronic issue such as diabetes or high blood pressure—and it can help prevent a trip to the hospital for more serious concerns.
Unfortunately, we are seeing too many news stories about people who are afraid to go for care and end up with a serious health problem. If you've been delaying or avoiding care, a telemedicine visit may be a comfortable alternative for you.
The providers at Vanguard are available and can use video visits to manage a variety of conditions, including:
Allergic reactions
Back pain
Conjunctivitis
Coughs and colds
Depression or anxiety follow-up
Diabetes
Flu
Gout
Bone density, including osteoporosis
Medication refills (ADD, Cholesterol, Thyroid, etc.)
Rashes
Seasonal allergies
Urinary tract infections
Video appointments are billed according to your individual insurance company's policy. Medicare and major insurance plans are accepted.
Schedule visits by phone, chat, or email
You can request appointments through our website. Our offices are fully staffed, and in many cases, same-day appointments are available. If you think you have symptoms of COVID-19, call ahead and we will guide you to next steps. If there is any other way we can support you, please let us know.
Please follow our Facebook page and look for weekly emails with updates about COVID-19 vaccinations and ways to stay safe and healthy.
For any questions about the COVID-19 vaccine, please email inquiries@vanguardmedgroup.com. Our COVID-19 vaccine support team will monitor and respond to your query. For medical concerns, please contact your Vanguard provider.