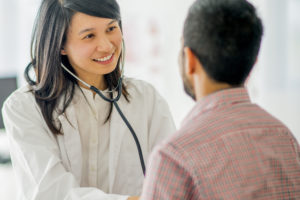 Choosing a primary care doctor in Cranford, New Jersey, can be a challenge, especially if a person is new to the community. Vanguard Medical Group is here to help. Thanks to our decades of experience providing comprehensive primary care to children, adults and seniors, our patients develop a trusted relationship with our providers, and that helps them get exactly what they need from a primary care physician.
The Physicians You Need in Cranford, New Jersey
Vanguard Medical Group specializes in a range of medical fields and has the experience to meet the needs of our patients. Our services include:
Family medicine: physicals, immunizations and screenings, and treating infections, strains, sprains, pain, chronic illness and growth issues along the care continuum of the life cycle.
Women's health: gynecological exams, contraception, preparation for pregnancy, navigating menopause, and handling complex cases and concerns.
Behavioral health: depression, anxiety, eating disorders, substance abuse and handling stress.
Nutrition counseling.
Seniors' health care.
Vanguard eCare: online medical diagnosis and treatment of common medical conditions.
Our specialists are available after hours to provide care for urgent cases, as well as to make house calls where necessary. With the secure MyPatient Portal, patients can manage medication refills, request appointments, access test results and communicate with their doctor. Major insurance plans are accepted.
Book an Appointment Today!
Contact Vanguard Medical Group at in Cranford, and we'll provide you with the ideal primary care doctor. We are located at 570 South Avenue East, Building G, Unit A. You can find us in the same complex as the Strength and Fitness Club. Get in touch and find yourself on the right path to improved health by calling 908-272-7790 or by visiting vanguardmedgroup.com to request an appointment.